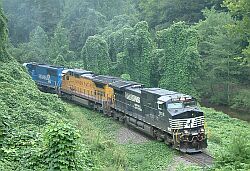 Welcome to the RRPictureArchives.NET contributor site of James cataquet.



Hi. I am James. I am a ten year old boy who LOVES trains. I live in rhinebeck,NY. I mostly railfan in Kingston, NY, which is across the Hudson River. I am also new here, but not new at photography.

I have a Olympus FE-200. I also have a film camera, which I use, but only for my personal collection. Every now and then I may upload my film, but only if its good, because I dont have a scanner. My grandpa does, and he lives about 5 miles north of me. Due to the amount of @$$holes out there (none of you, Im hoping), I wont give any personal info.I hope to post more pics and I hope you like them. I can really pretty much only get pics on Saturady, cuz of school.



You may browse my collection of pictures via the menu located on the left hand side of the page. I hope you enjoy the collection and thanks for stopping by!